2018 Legal Lab Executive Summary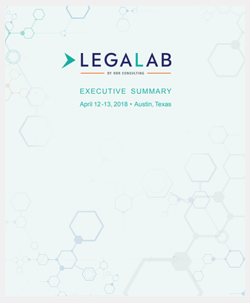 The legal industry has continued its journey over the past several years to reinvent the delivery of legal services and operations. This market evolution continues to be driven by corporate clients, who made notable changes over the past several years in the allocation of their spending on legal services by increasing their internal law department size and scale, spend on alternative legal service providers (ALSPs) and use of technology. Simultaneously, they have been decreasing law firm spend and reducing the number of firms they use. With these changes, law firms are under greater pressure to examine their service delivery models to remain competitive and best serve their clients.

The shift in market dynamics and resulting challenges were some of the important topics debated at HBR Consulting's 2018 Legal Lab, the fourth annual gathering of law firm executives and corporate law department leaders. The three pillars of this year's discussions focused on the ways law departments and law firms can innovate and differentiate themselves to address those challenges:
Service delivery
Technology
Diversity of talent
Download the 2018 Legal Lab Executive Summary report for insights on navigating the challenges and opportunities in the year ahead. The pace of change in our industry continues to accelerate. Those leaders who are equipped to adapt to these changes will be best positioned to thrive in the legal services marketplace of tomorrow.