2019 Legal Lab Executive Summary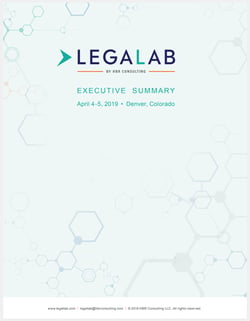 Legal Lab 2019, HBR's fifth annual gathering of leaders from leading law departments and law firms, marked a turning point from prior years where we were poised on the brink of change in the legal industry.
Alignment and collaboration between law departments and law firms were the themes of this year's Legal Lab. As the sessions unfolded, it became apparent that the alignment and collaboration run deeper and broader at leading legal organizations than just at the highest level, the client-law firm relationship. This emerging collaborative culture underlies — and supports — the need for an agile, diverse talent pool of well-trained and engaged employees; for innovative, value-focused service delivery; and for the tools and technology to streamline work and measure progress.
Download the 2019 Legal Lab Executive Summary report for success stories in talent recruiting and retention, service delivery concepts that focus on value to clients, and insights on the evolution of analytics to measure success and inform decision-making.