Information Governance Trends Briefing
For an IG program to prove its value and ultimately capture the attention of executive leadership, the program must demonstrate alignment with the overall goals and objectives of the organization. At HBR, our experts provide deep expertise and proven best practices to deliver effective strategies that align with each organization's structure and culture to ensure information governance programs are actionable, and easy to implement, adopt, support and measure.
If you would like to discuss how your organization can demonstrate a direct correlation between your IG program and your organization's ability to meet its vision, we can help.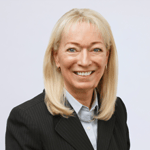 Laurie Fischer
Managing Director