Law Firm Evolving Libraries Survey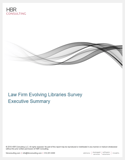 HBR Consulting's Law Firm Evolving Libraries Survey was designed to gain insights into emerging trends across law library staff, resources, technology and services. The 2017 survey included 56 law firms with diverse demographics across key areas, such as firm size, globalization and profitability. The results identify trends and highlight opportunities to enhance the value proposition of library and research services within law firms.

Top 5 Takeaways from the Evolving Libraries Survey
Top strategic initiatives

are adding new technology or resources and improving services.
Firms are moving towards a single-provider approach for online research.

48% of firms surveyed are a single provider for online research (LexisNexis or Westlaw), up 6 points from last year, with another 7% of firms considering this move in the next three years.
25% of firms are no longer seeking cost recovery for some or all online legal research, with smaller firms more likely to have made this change.
Research continues to be a core function in law libraries, with 32% of library staff time dedicated to research.
Only 38% of firms feel the library will be able to adequately support future needs of the firm

due to the ever-increasing rise in the attorney to library staff ratio, coupled with an increasing desire and demand for the library to provide more innovative services and resources.